Evironmentally-friendly working
Conscious energy use in our offices and shops, a more energy-efficient network and increasingly sustainable data centres are some of the basic principles of our continuously-reviewed sustainable operation. Last year, the energy crisis and the war in Ukraine provided an even greater impetus to achieve our sustainability goals. VodafoneZiggo's Energy Crew spared no effort to reduce the company's energy consumption at an accelerated pace.  
CONSCIOUS ENERGY USE 
From our shops and offices to our network and data centres, our operation impacts the environment through the energy we consume and the CO2 we emit. To use energy as consciously as possible, VodafoneZiggo purchases 100% European wind energy with Guarantee of Origin certificates.
Of the electricity our company consumes, 94% is used to keep our network running. The rest is attributable to our offices (5%) and shops (1%). Our annual gas consumption is decreasing year-on-year, among other ways, through closed doors in our shops and lower temperatures in our offices. In 2022, this consumption was still about half of that compared to 2020.
SAVING ON OUR NETWORK 
We made our largest reduction in energy by adjusting our network. We partly achieved savings on our mobile network by switching off 3G equipment sooner than planned. We plan to switch off around 2000 3G sites by May 2023. In addition, we installed smart software that switches on masts during peak usage times and switches them off during off-peak periods – an upgrade that will save 5 GWh per year.
MORE ENERGY-EFFICIENT DATA CENTRES 
In our data centres, we implemented several low-energy measures in 2022, such as adjusting the temperature at those locations. We are also making more frequent use of 'free cooling' by utilising external air, which, given our mild climate in the Netherlands, could generate considerable savings. We have also started using more energy-efficient equipment and software and are writing our own software codes to automate our network even further. To make our data centres even more sustainable, we are investigating whether we can reuse residual heat at our data centres in Tilburg and Groningen.  
TRANSPORTING DATA MORE EFFICIENTLY 
We are continually expanding the capacity of our networks in order to meet the ever-increasing demand for data. Our ambition, however, is to continue reducing the energy we use for that purpose. Our mobile network has become almost 40% more energy efficient since 2020, while the efficiency of our fixed network has increased by over 25%.
ENERGY CREW 
Our specialist Energy Crew has been active since 2022. The team itself is made up of energy-conscious colleagues from all parts of the company. Together, they drew up an action list of over one hundred possible savings to be made by eliminating hidden consumption. Seven of those were already addressed in 2022, including taking outdated equipment out of service sooner and implementing software updates capable of delivering energy savings.  
The measures are not only confined to our own energy consumption, but to our customers' energy consumption as well. We are replacing old media boxes in our customers' homes for new ones that consume less energy (read more on page xx).
Our ambition is to continue to reduce our energy consumption by making use of energy-efficient equipment and software.
Sustainable products and services 
We are continually looking to see how we can make our products even smarter and more energy-efficient by using fewer raw materials, encouraging reuse or repairs and extending the service life of our products. With recycling, we are closing the loop. We engage our customers in this process by offering them as many sustainable choices as possible and by educating them about sustainability. Since 2018, all of our initiatives have already reduced our CO2 emissions by 30%.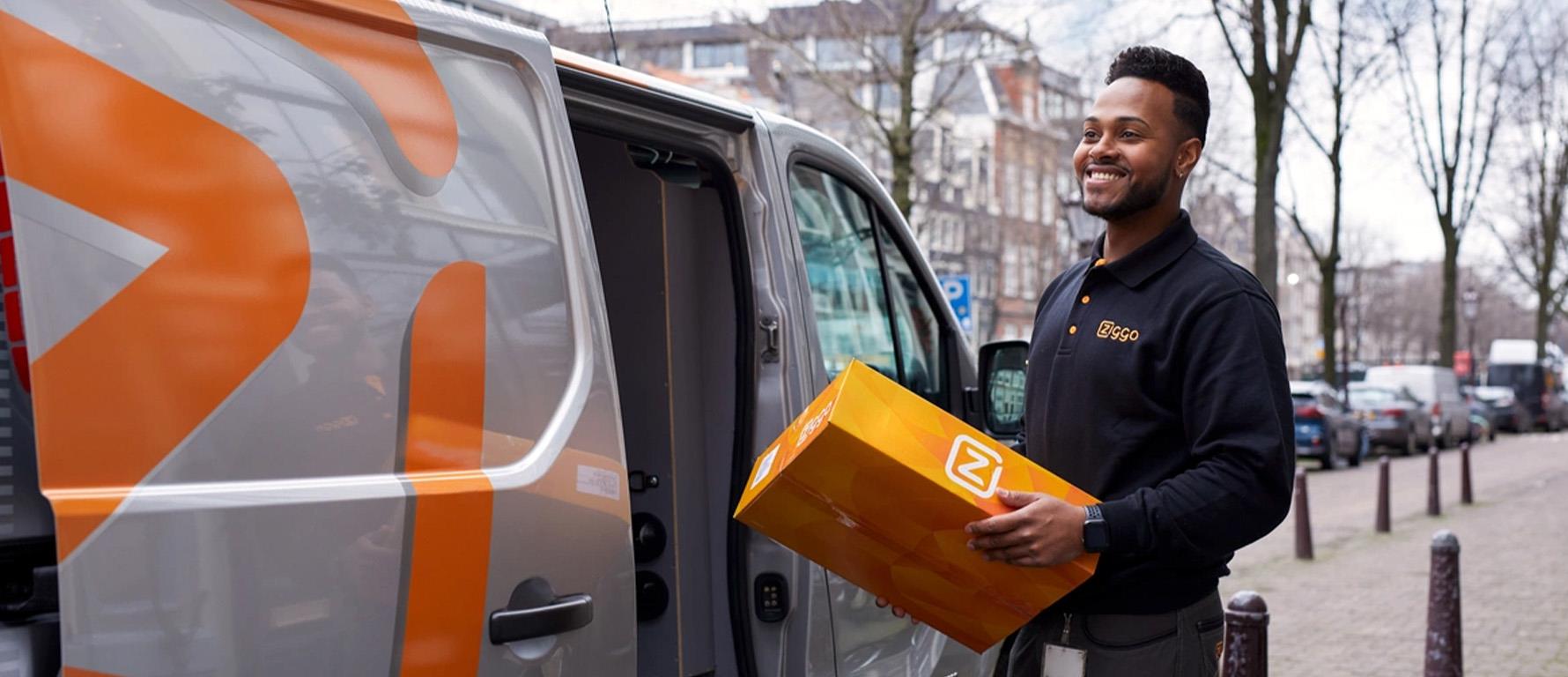 SUSTAINABLE PRODUCTS 
We are vigilant about how we use the raw materials for the equipment we use to satisfy our customers' needs. As part of this, we look for opportunities to reuse more and we try to extend the service life of our products and develop equipment and software that are increasingly energy-efficient.
AN ENERGY-EFFICIENT MEDIA BOX 
The Mediabox Next Mini, introduced in 2022, is a good example of one of our sustainable, new products. With a power consumption between 2.5 and 5 watts, it is more energy-efficient than its predecessors. It also switches into stand-by mode if it isn't being used. Customers can adjust this energy-saving setting for themselves or can switch it on or off.  
In addition, 85% of the media box itself is made from recycled materials. It is also so small that it will fit in the customer's letterbox. It is also efficiently packed in cardboard in order to use the smallest quantity of packaging materials as possible, significantly reducing the use of plastic. This means that the devices take up 30% less space inside the delivery vehicles, as a result of which fewer delivery runs are required. 
Since 2022, we have been replacing old media boxes with the next generation of smaller, low-energy devices earlier than planned – 1.2 million customers now have a Mediabox Next or a Next Mini. Last year, the number of energy-efficient TV products used by our customers rose from 21% to 41%.
SMART PACKAGING 
Other initiatives to ensure we use a much lower quantity of raw materials are our e-sims and our improved packaging. E-sims are digital SIM cards that replace the familiar plastic SIM cards along with their packaging. In 2022, we introduced new cardboard boxes that have been made to fit our products precisely. This means that the devices take up 30% less space inside the delivery vehicles, meaning fewer delivery runs are required. Moreover, our packaging is increasingly made from biodegradable materials such as soya ink and recycled cardboard. 
REUSE WHERE POSSIBLE 
We also encourage Ziggo customers to return outdated and non-functioning equipment. They receive a box which they can use to return devices free of charge. Media boxes, modems, routers and WiFi boosters that are returned but are still usable are reused once any necessary repairs have been carried out. We now refurbish 1 million devices each year; around 85% of all hardware that is returned.   
As a result of our collaboration with the non-profit organisation Wecycle, we are ensuring that equipment we are unable to recycle ourselves still ends up where it needs to be. We do this by encouraging customers to hand in end-of-life hardware at one of the 13,000 Wecycle recycling points located throughout the country. 
EXTENDING THE LIFE OF YOUR PHONE 
Vodafone encourages customers to make conscious choices that will extend the service life of their phones. We do this under the banner: recycle, reuse, repair and reduce. If customers continue using their phones just one year longer, they will reduce its CO2 impact by up to 29%. With our campaign 'Geef je telefoon een langer leven' (Give your phone a longer life), which began in 2023, we want to help customers in the Netherlands to get the most out of their phones.
Thanks to the Smartphone Scan available in Vodafone shops, customers can check in just a few minutes how they can still use their phone effectively and when it is time for a new model (reduce). Instead of a new model, they can also choose a refurbished phone instead (reuse). A refurbished device is better value for money and saves around 50 kilos of CO2 emissions (source: Vodafone circular economy plan). Repairing a broken phone is also an option, even if it is not insured (repair).
Finally, customers with Vodafone Trade-in deals can simply exchange their device for cash. Old or broken phones that no longer have any exchange value can be handed in at our shops (recycle). The phones will be recycled and the old materials will have a second life with the help of our partners. As part of this, we look for opportunities to reuse more and extend the service life of our products, and develop equipment and software that are increasingly energy-efficient.
85% of the The MediaBox Next Mini is made from recycled materials.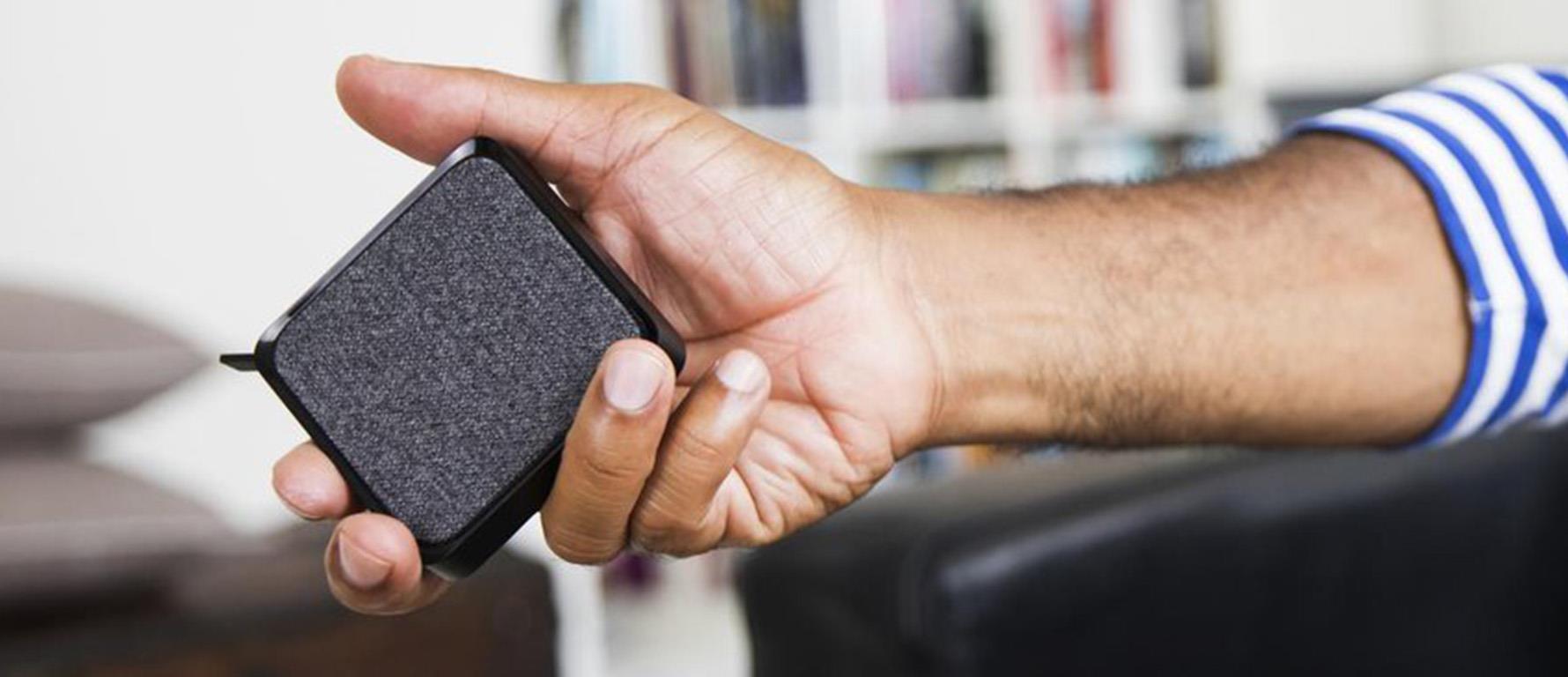 CLOSING THE LOOP 
When it comes to recycling the business phones of VodafoneZiggo colleagues, social enterprise Closing the Loop is there to give us a helping hand. For every phone handed in by a VodafoneZiggo colleague, Closing the Loop will recycle a discarded phone in countries that lack recycling expertise. Ecowave is helping us recycle phones handed in by consumers. In this way, we are working with our customers, employees and partners to close the loop. 
Since 2018, all of our initiatives have reduced already our CO2 emissions by 30%.
Sustainable mobility 
We are committed to significantly reducing the CO2 emissions of our everyday mobility every year – starting with VodafoneZiggo employees. That is why we are informing, engaging and inspiring them to use sustainable modes of transport. Our aim of having a largely electric vehicle fleet moved one step closer last year. We now have more electric lease cars on the road, and our installers also use e-vans, e-bikes and e-scooters.
To reduce our CO2 emissions, we inspire our employees to use sustainable transportation.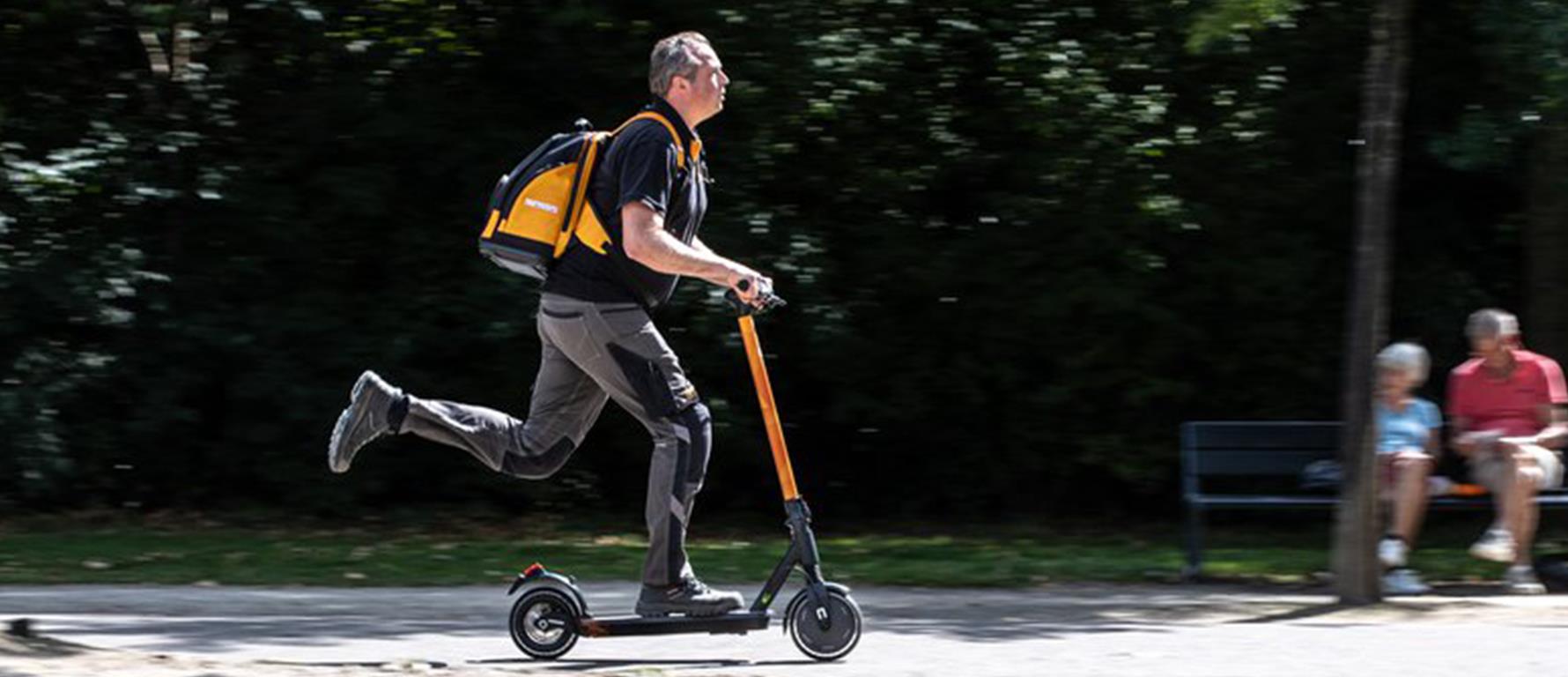 SUSTAINABLE BUSINESS TRAVEL
Together with seventy other leading companies in the Netherlands, we are playing an active part in the Anders Reizen (Travel Differently) coalition to promote sustainable business travel. We encourage employees to use public transport as much as possible to and from work, giving all employees at the company's offices and shops an NS-Business Card with which they can travel first class, free of charge. Our newest offices are also located within walking distance of a railway station.
ELECTRIC LEASE CARS
In addition to encouraging more employees to use public transport, we want to ensure that all car journeys are fossil-free. That is why since 2022, we have only been providing electric lease cars to those of our staff who are required to travel. The proportion of electric lease cars in our vehicle fleet has increased to 27% in 2022.
ELECTRIC TRANSPORT
Some of our employees still have to go on the road, including technicians who must visit a customer's address as quickly as possible. Together with our installation partners, Circet and Guidion, we are trying to ensure that our essential customer visits are environmentally friendly. First, we are taking initiatives to reduce travel distances and drastically reduce emissions per kilometre. We are also experimenting with the use of electric vehicles by our installers. In 2022, we also successfully concluded a pilot project involving e-vans, and we intend to roll that programme out further in 2023. In the major cities, we also provide more two-wheeled forms of electric transport for technicians visiting customers' homes. These include e-bikes, covered e-scooters and several SunRiders – electric cargo bikes with solar panels. In 2022, a trial involving StapSteps (new window) also proved successful – a type of electric scooter that can be used to complete the final few kilometres, which users can charge on their electric van. Compared to a diesel-powered van, an electric scooter provides a CO2 reduction of 99.3% for every kilometre travelled. In addition, it is also an effective solution to the parking problems in urban areas.