Our strategy
What sets VodafoneZiggo apart from the rest? What role do we play in our customers' lives, and in Dutch society as a whole? Our goals and our strategy set the direction for everything we do – from small choices to major investments. 
OUR PURPOSE
VodafoneZiggo makes valuable connections; between people and for people. Whatever connection our customers make – video calls to their grandparents, with family at home in front of a good movie, or while presenting a project to a screen full of colleagues – we ensure that they can maximise every moment and continue to move forward. This is fully reflected in our purpose at VodafoneZiggo: enjoyment and progress with every connection.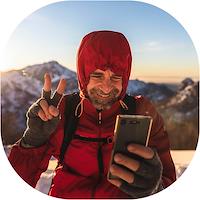 Connection
We are ready for the future. It is a future in which we make innovative technology available to everyone. In which we bridge every divide possible and bring people closer, wherever they are.
In which we ensure that the Netherlands remains a digital frontrunner. And in which your world will become smarter, faster, more sustainable and more enjoyable – at home, at work and on the road. That is the power of connection. That is the power of VodafoneZiggo.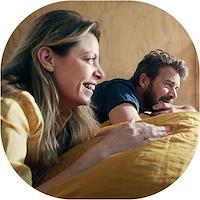 Enjoyment
We create content and develop technology that inspires people and brings them enjoyment.
Working, playing, relaxing, creating and meeting: it is always within hand's reach.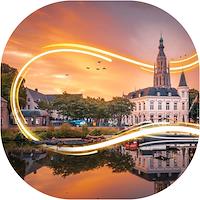 Progress
We are a driving force behind innovation and digitisation in the Netherlands.
We build and manage the infrastructure that makes everything possible: a stable, smart and future-proof network. Our technological processes are helping society move forward. 
OUR STRATEGIC FOCUS
We put our customers first in all that we do, day in and day out. Providing an exceptional experience is therefore the central theme in the revised strategy that we developed in 2022 and launched at the beginning of 2023. The strategy itself concentrates on five focus points:
How we enjoy the challenge
Our ambitions are huge. To achieve them, we work as one team. From our technicians and shop assistants to IT staff, marketers and sales managers, everyone is working together to offer customers enjoyment and progress. This will only succeed if our employees have the best working conditions and feel good. That is why we have created a culture of openness, equality and respect. We bring together a wonderful mix of people with diverse backgrounds, cultures and characters. We offer them opportunities to grow, take on new challenges and bring out the best in themselves and each other. 
Secure & Seamless Connectivity
Every day, VodafoneZiggo creates countless connections. Between people, businesses and even smart devices. We improve and upgrade our network continuously to meet the needs of millions of Dutch people, so our customers can enjoy a safe, seamless and carefree connection wherever they are.
Endless Entertainment
The excitement of a sports match, a riveting film or an unforgettable concert. When it comes to entertainment, we are just as passionate as our customers. We go all the way to provide an exhilarating experience. We are creating the Netherlands' leading entertainment platform, where people come for their favourite films, series and sport. An easy-to-use search function and personal recommendations make the experience complete. Furthermore, we offer our customers priority access to live concerts and sports competitions with our Priority programme.
Best Business Solutions
The Netherlands is home to over two million companies, from pioneering start-ups to major players on the global market. Together, they are the driving force behind our economy. What aids their success? Strong connections and constant innovation. VodafoneZiggo provides them this, with technology that enables secure, hybrid and customer-oriented working, as well as IoT applications that make cities smart. This makes us a rock-solid partner and a driving force behind digitalisation in the Netherlands. 
Smart Digital Experience
By accelerating our digitisation, we can provide large-scale, exceptional customer experiences. We are busy creating super simple, super smart and super personal customer journeys, making VodafoneZiggo the go-to partner in people's everyday digital lives. 
Progress for Everyone 
The more digitised our world becomes, the more important it is to make sure nobody gets left behind. Our mission is to ensure everyone can participate properly, consciously and safely. That is why we help older people acquire digital skills and teach children how to be safe online and maintain a healthy balance between online and offline activities. In addition, we are examining how we can make our products and services more accessible to vulnerable target groups. 
 
We are also making these contributions to society in a more sustainable and more inclusive way. We have firm ambitions to reduce our CO2 footprint and sett clear conditions for who we work with in our value chain. Our sustainable products and services are also enabling our customers to save energy.