3. Best business solutions
The digitisation of society has had an enormous impact on entrepreneurs. At Vodafone Business, we're ensuring they move forward and make the most of the opportunities created by this transformation with products, services and support – such as smart solutions for digital collaboration to deploying new technology, such as 5G.  
SECURITY FIRST
A protected digital environment is vital for business continuity. Within this, we distinguish between two levels of protection: protecting our network and the network of our customer's environment. As is the case every year, we invested heavily in the security of our entire network and systems in 2022.
For our customers we provide a broad range of security products. These security products are designed to keep the data of our customers secure. To make sure our products cover all cybersecurity domains, we use for reference the NIST framework. This mitigates cybersecurity risks on their mobile phones, laptops, personal network components and servers, WiFi networks and other connections, as well the use of passwords, dual-factor authentication and other security measures.
We provide companies with a framework for the reduction and management of cybersecurity risks.
THIS IS HOW SMARTER WORKING WORKS
With our Smarter Working service package, we help our business customers handle their people and resources smarter. It eliminates the need for individual products, instead offering entrepreneurs an entire suite of end-to-end solutions – from stable connectivity and robust security to customised Microsoft Office and working in the cloud. Customers can also add specific homeworking solutions and, where necessary, have the option to streamline their entire customer contact centre digitally.
Smarter Working can also support company CSR efforts – enabling them to commit better to sustainability by working smartly. We help companies consider improvements such as reducing travel by opting for online meetings, opting for greener and more energy-efficient vehicles, and installing money-saving smart devices that alert owners when it is time for maintenance. By working with our customers, we can identify the improvements that will have the biggest impact and make their businesses fit for the future.
We are working to make technology more accessible, for smaller businesses as well as for our corporate customers.
Each year, we use our Fit for the Future survey to ascertain the state of the Dutch business sector. Among other things, we investigate how open, prepared and flexible companies are and how ready they are to embrace new technology. In 2022, 322 companies took part in the survey, which covered three main topics: sustainability, innovation and business resilience & cybersecurity. By sharing the results, we are boosting the business sector and playing an active part in fulfilling the Dutch government's digital strategy.
EVERYTHING CONNECTED WITH THE INTERNET OF THINGS
Powered by our SIM cards and our low-latency 5G network, the Internet of Things (IoT) is becoming increasingly important to our business customers. Not only does it make their operations more efficient, but it can help them develop new products and improve the customer experience. In 2022, globally, Vodafone Group connected more than 159 million IoT devices, establishing 3 million new IoT connections each month to wirelessly link devices, sensors and systems. Moreover, 84% of the companies fundamentally use IoT to improve their ecological sustainability.
IoT relies on 5G. That is why we are working with knowledge partners and entrepreneurs at our 5G HUB Eindhoven and 5Groningen hub to push 5G technology further. We implemented one of our innovations during a Red Hot Chili Peppers concert at Goffertpark in Nijmegen in June 2022. The event represented a major logistical challenge, with 60,000 visitors descending on the park. To help organisers, we worked with Ericsson, Fieldlab and Gigtech to set up a new camera system to monitor crowds, which used 'network slicing' – a unique feature of 5G that makes it possible to reserve one portion of the mobile network. The result: the cameras' images were crystal clear and relayed to the event control room in real-time, without any glitches or drop-outs.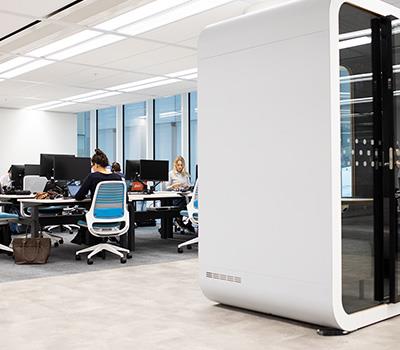 Smarter Building
A great example of smart and future-proof technology is VodafoneZiggo's Central Office in Utrecht. Heating and lighting that switches off when nobody is present, noise sensors that help employees find a quiet room and a reservation system that links meeting rooms to visitors– technology makes the building as efficient as possible. The software, hardware and connectivity services in our Utrecht office is now available to customers as part of our Smarter Building offering – which dozens of companies made use of in 2022.
FOCUSING ON SIMPLICITY
Digitisation has impacted companies of all shapes and sizes. We want it to be as straightforward as possible for our customers to organise their affairs, without requiring constant support. That is why we are working to make technology more accessible for small businesses and entrepreneurs, as well as our major customers.
Technological solutions for society   
Thanks to the development of 5G, VR and AI technologies, our physical and digital worlds are becoming more closely intertwined. At VodafoneZiggo, we focus on how society can take advantage of these technologies to move forward. Together with entrepreneurs, students, policymakers and knowledge institutions, we are building on concepts that will contribute towards an inclusive and green society for everyone. We are doing this from three physical hubs.
5G HUB EINDHOVEN
To collaborate on the future's innovative applications made possible by 5G, we set up the 5G HUB Eindhoven in early 2020 with Brainport Development, High Tech Campus and Ericsson. We give entrepreneurs and students the opportunity to develop world-changing technology – like scale-up company TechBinder, for example. After realising ships don't always take the shortest route and make unnecessarily long journeys, TechBinder is using IoT to make the shipping industry more efficient and sustainable. The company has created technology that allows the skipper to see exactly what the optimal route is on their dashboard – a powerful example of how technology can reduce costs and cut a company's ecological footprint. TechBinder was the winner of the 5G HUB Innovation Challenge 2022. In doing so, it won a co-creation programme to develop this groundbreaking idea further.
Elsewhere, under the name 5Groningen, we are also collaborating with entrepreneurs and non-profit organisations to test 5G applications in Groningen. 
MEDIA INNOVATION HUB HILVERSUM
Technologies such as AR and VR will radically change how people consume content. That is why we are building a Media Innovation Hub in Hilversum and working with parties such as Beeld & Geluid, NEP, NPO, Stuurgroep Mediapark and CLICKNL on new applications for entertainment, media and immersive content. A great example of our work is the 5GameClash campaign, which pitted two teams of gamers head-to-head in a VR game at locations 250km apart – a world first. Thanks to high-quality 3D images and a smooth connection, the participants actually felt like they were in the game together.
GREEN INNOVATION HUB IN ALMERE
According to predictions, the population of the Netherlands is set to increase to 18.9 million by 2035. With an increase of 2.1% per year, Almere is the fastest-growing city in the country and home to the largest sustainable area development project in the Netherlands – which is why we chose to build our Green Innovation Hub there.
The Green Innovation Hub is a public-private partnership between VodafoneZiggo, the municipality of Almere and the province of Flevoland. It is included in the coalition agreement of the municipality of Almere and is a breeding ground for innovation.
This unique public-private partnership is working on the development of new residential districts, such as Almere Pampus, that will act as a prototype for the city of the future and for a sustainable and inclusive living environment.
The Hub is also stimulating, facilitating and co-creating technology-driven innovations, including grid balancing and smart energy storage and distribution. Digital inclusion is also set to play an important role in ensuring that everyone can keep up in this living environment, where people live, work and participate in recreational activities. 
PRESSING AHEAD AND SCALING UP 
Work at our 5G HUB has resulted in significant technological development. Up to this point, our focus has been awareness and testing. As we advance, we will focus on maximum impact in the coming years. To achieve that, we will concentrate on the scalability of ideas and on developing products and services – that generate tangible results – for organisations. We will take that same ambition to our other hubs in Hilversum and Almere. Through it all, we'll keep two important goals in mind: giving emerging talents, start-ups and scale-ups the opportunity to make a rapid impact, and arriving as quickly as possible at scalable solutions relevant to our stakeholders and society.