2. Endless entertainment
VodafoneZiggo has been a leading platform for exclusive content for many years, where audiences can enjoy their favourite Movies & Series and Ziggo Sport. The next step in our evolution is to become the home of entertainment for our customers. We're creating the ultimate entertainment platform where customers can find all the content they need in one place. We're bringing live events into viewers' homes, too: from live music to live sports. We recently acquired rights to UEFA club football competitions, this will contribute to achieving our ambition. 
We want to become the Home of Entertainment for our customers.
IT'S ALL COMING TOGETHER 
Amazon, HBO, Viaplay, Disney+, SkyShowtime – the number of content providers available to viewers in the Netherlands is growing all the time. Our mission is to help audiences access the very best by connecting them to their favourite streaming platforms in a way that delivers a convenient and seamless viewing experience.
We worked hard on this goal in 2022, building the complex infrastructure for this new service range – one that brings together content from different providers in a single database, which customers can sift through easily. We are calling this new option 'metasearch', and searching for content is not the only convenient thing about it. We have created a simplified invoicing system that gathers all of a customer's orders on a single Ziggo invoice. Netflix, Viaplay, Videoland, Prime Video, Disney+ and NPO Start apps are plugged in and already available via the Mediabox Next and Next Mini. We aim to expand our search and invoicing functionality for all media outlets.
BEING THERE WITH PRIORITY
We have offered our customers special giveaways and priority tickets to live events since 2021 through our customer programme Priority. This continued in 2022: fans of The Crown watched the première of the fifth season in Paleis Het Loo, while racing fans followed the Formula 1 races on giant screens at Racesquare. We gave football fans the opportunity to view matches in the Johan Cruijff ArenA, and gave music lovers a chance to see Maan, Bryan Adams, the Dolly Dots and many more artists in the Ziggo Dome.
NEVER SEEN BEFORE
In 2022, Ziggo Sport acquired the exclusive media rights to the UEFA Champions League, the UEFA Europa League and the UEFA Europa Conference League. The agreements with UEFA will be valid for three football seasons – from mid-2024 to mid-2027 – and will bring the most important European club competitions together under one roof in the Netherlands for the first time. We have also added MotoGP to our range, expanding our Dutch sports content.
THE FUTURE OF ENTERTAINMENT 
2022 was a great year for VodafoneZiggo, but it does not end there – we have been looking to the future too. Our vision of becoming a 'full-service provider' that brings everything together in one place for its customers is becoming a reality. We want our customers to receive the very best range of entertainment available, provide media companies with long-term access to the Dutch market, and for us to continue to do what we do best – providing entertainment of the highest quality.
Our vision of becoming a 'full-service provider' that brings everything together in one place for our customers is becoming a reality.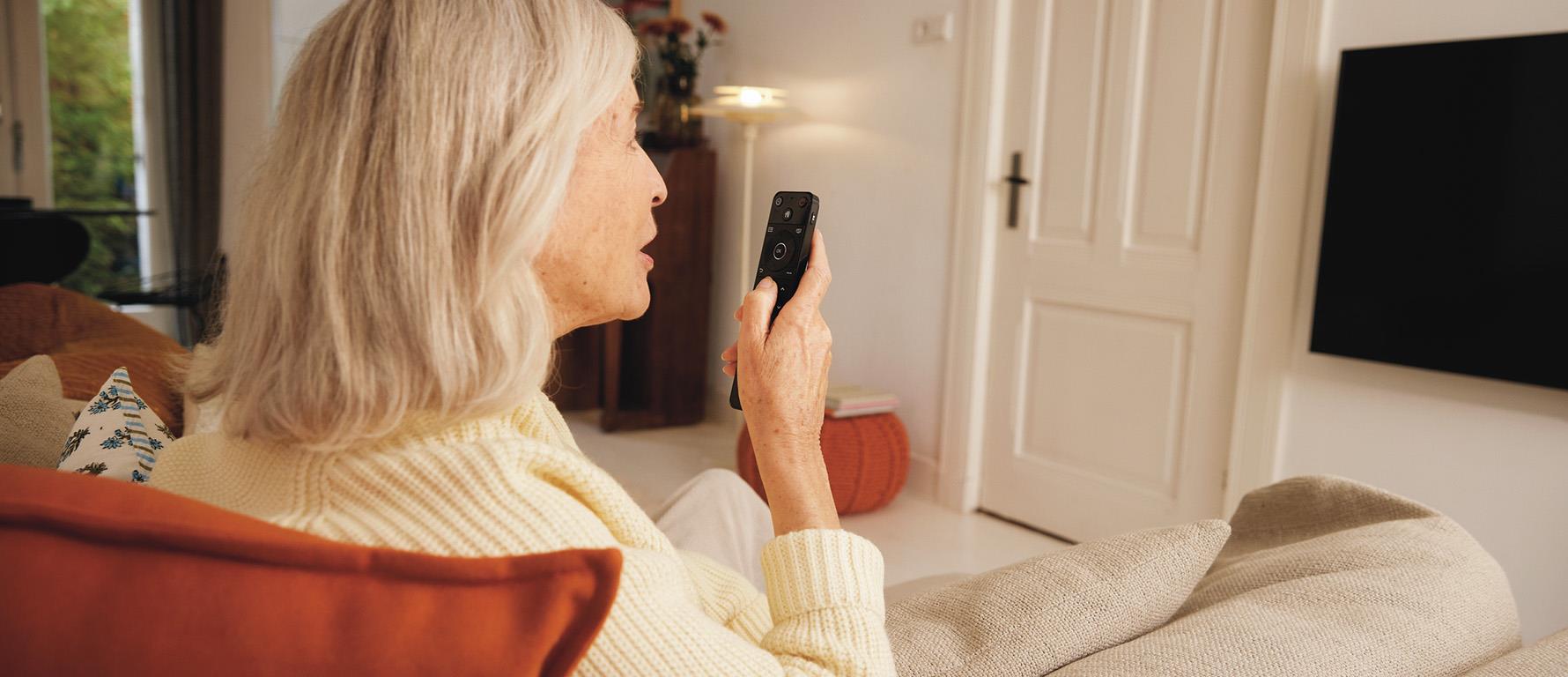 Seamless on all devices 
In everything that we do, our main objective is to provide an enjoyable and seamless experience for our customers, from intuitive access to entertainment to the best possible content. We use the best technology for this, both in customers' homes and behind the scenes. 
MEDIABOX NEXT AND NEXT MINI
We go the extra mile to provide customers with their favourite streaming services in one place on a single platform where customers can find what they're looking for effortlessly.
A new generation of equipment is needed to make our new entertainment vision possible – including the Mediabox Next Mini, a product we are proud of. The design has received a Red Dot Design Award and is breaking new ground. As its name suggests, the device is extremely small, measuring 8x8x19cm. A coaxial cable is no longer required, meaning a WiFi connection is all that is needed to watch 4K-quality TV. And as the device consumes only 5 watts of electricity, it is undoubtedly the most economical media box we have ever had. Moreover, the Mini primarily consists of recycled materials, and its design also means repairing and recycling the device is easy.
Super simple, super smart and super personal customer journeys.
In 2022, we conducted a large-scale roll-out of that technology – 1.2 million customers have the Mediabox Next or Next Mini. During the fourth quarter of 2022, a further 250,000 customers joined them. Things are moving fast, but slower than we would like, with our roll-out slowed by shortages in the microchip market.
VOICE CONTROL AND TRACKING 
We put a world of entertainment at viewers' fingertips, but we are not stopping there. We have enabled customers to search for programmes quickly and intuitively by adding voice control to our platform – built into the remote control – a first for the Netherlands. We have also added personalised viewing recommendations, based on their viewing behaviour – available with tracking permission from the customer themselves. And finally, we have added viewer profiles, so viewers within a family can enjoy their own unique experience inside one household. We are turning TV into a seamless viewing experience that continually inspires and provides the perfect suggestions for the best experience.
STRONG NETWORKS WITH SMARTWIFI
Enjoyable entertainment needs a reliable connection. Thanks to our SmartWifi products, every household member can access the best possible wireless internet connection in every part of their home. Currently, 1.6 million customers use our SmartWifi pods, which provide coverage throughout their homes or offices. To ensure connections remain as good as they can be, our specialist WiFi Crew is on hand 24/7 to answer customers' questions and solve problems. Customers can also keep a close eye on their home network using the SmartWifi app.
ZIGGO GO APP 
1.4 million of our Ziggo customers are now using our Ziggo GO App. Updated in 2022, the app now looks the same on any screen a customer uses it – making it even easier to switch seamlessly between a TV, smartphone, tablet and laptop. The Ziggo Go App allows viewers to effortlessly follow a match, movie or TV programme at different times and on different devices – a clear indicator of how we are evolving to match their media consumption habits.