Our Experience Centre
The VodafoneZiggo Central Office in Utrecht is home to the Experience Centre, a place where our purpose comes to life. Customers, new employees, youth groups, representatives of municipalities and educational institutions are introduced to VodafoneZiggo and the idea of 'enjoyment and progress with every connection'.
A hologram that provides information about our fixed and mobile networks. A 3D-show that demonstrates the impact of our technology. And the chance to dance in a mini Ziggo Dome. At our Experience Centre, there is so much to see and do, as well as versatile spaces for groups to come together and share knowledge.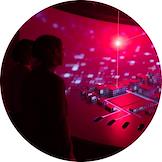 EMPLOYEES 
All new office employees start their VodafoneZiggo career with an introductory meeting at the Experience Centre, where they are welcomed by the HR department and our Chief Operating Officer (CEO), Jeroen Hoencamp and briefed on the business goals and values of VodafoneZiggo. The same applies to new shop employees, who are also welcomed by the Retail department.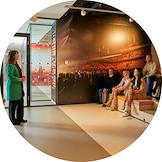 BUSINESS CUSTOMERS 
VodafoneZiggo also welcomes clients to the Experience Centre, such as B2B customers, who take part in interactive sessions that focus on future opportunities – analysing where their company is now and in which direction they would like to grow. Customers can choose between two inspiration sessions: 'Smarter Business: responding to the opportunities offered by the Internet of Things and Big Data' and 'Digital Workplace: responding to the emergence of (more) flexible working'.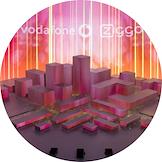 MUNICIPALITIES AND SCHOOLS 
We also invite representatives from municipalities and schools to visit the Experience Centre to get to know VodafoneZiggo and share knowledge among themselves. After all, many municipalities and schools are now facing the same challenges. The B2B and Public Affairs departments deliver sessions in which participants have an opportunity to examine how they can support each other in responding to difficult issues.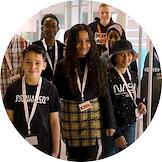 SCHOOL PUPILS 
The Experience Centre is a big day out for children. Organised by VodafoneZiggo's Corporate Social Responsibility (CSR) department in collaboration with children's non-profit JINC, school trips to the Experience Centre are a chance to learn how to be active online and on social media safely and consciously. Pupils can also experience new technology up close, from seeing inside a fibre node to programming their own game.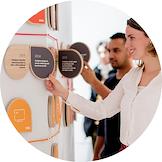 MEETING AND GETTING STARTED 
All in all, the Experience Centre is designed to develop human networks. We bring together progressive thinkers with the technologies and professions of the future. We connect like-minded people and introduce them to what VodafoneZiggo has to offer. It is a starting point for new careers, active collaborations, and advanced projects, as well as a place in which to experiment and to amaze.