1. Secure & seamless connectivity
Vodafone and Ziggo's powerful networks form a high-quality infrastructure that enables seamless connectivity, smart working solutions and innovative services – all of which means we are ready for the future of digital. We also invest in making our network more secure, stable and sustainable every year, efforts which have made them both among the best in the world. In fact, in 2022, Ziggo's fixed network was rated the best by leading independent test provider Umlaut.
RECORD ON OUR NETWORK
Our customer's average data consumption increased again in 2022 to record levels, primarily because consumers and businesses needed more and more internet capacity and are using our network more intensively. Our customers are also increasingly watching high-quality series and films from the well-known streaming services and Ziggo's offerings via our media boxes. In addition, people have made more intensive use of the internet as they work from home or complete online education. We see this reflected in our customers' upstream internet traffic, especially through video calls from home.
We offer an increasingly secure, stable, and sustainable network to service this new reality. That is why we continuously invest in the reliability of our network and ensure that the internet speed of the various subscriptions continues to meet the needs of our customers. In 2022, for example, our customers received another automatic speed upgrade of around 20% on average.
Consumers and businesses are using our network more intensively and require more capacity.
1GBPS INTERNET CONNECTIONS 
On the subject of speed: 97% of the signal received by our customers is transmitted via fibre optic, which is an ideal way of sending large quantities of data over long distances. The final leg to the customer's home – from the local exchanges to each address – is provided using coaxial cables. VodafoneZiggo has been using DOCSIS technology for many years, a robust technology that allows us to offer ever-increasing bandwidths thanks to the availability of ever-smarter software.
Using these technological improvements, we have reached the final stage of a four-year national operation, supported by 120 colleagues. As of 2022, over seven million households and businesses are now able to benefit from Gigabit speeds. That means, hypothetically, a household could allow 80 people to hold meetings via MS Teams, or 40 people could simultaneously watch television in 4K.
We are aiming to increase that speed in the coming years. In early 2023, VodafoneZiggo will start testing DOCSIS 4.0 – paving the way for download speeds of 10 Gbps and upload speeds of more than 1 Gbps, ensuring a fast and stable internet connection in the future. In 2022, the availability of our fixed network was 99.97%.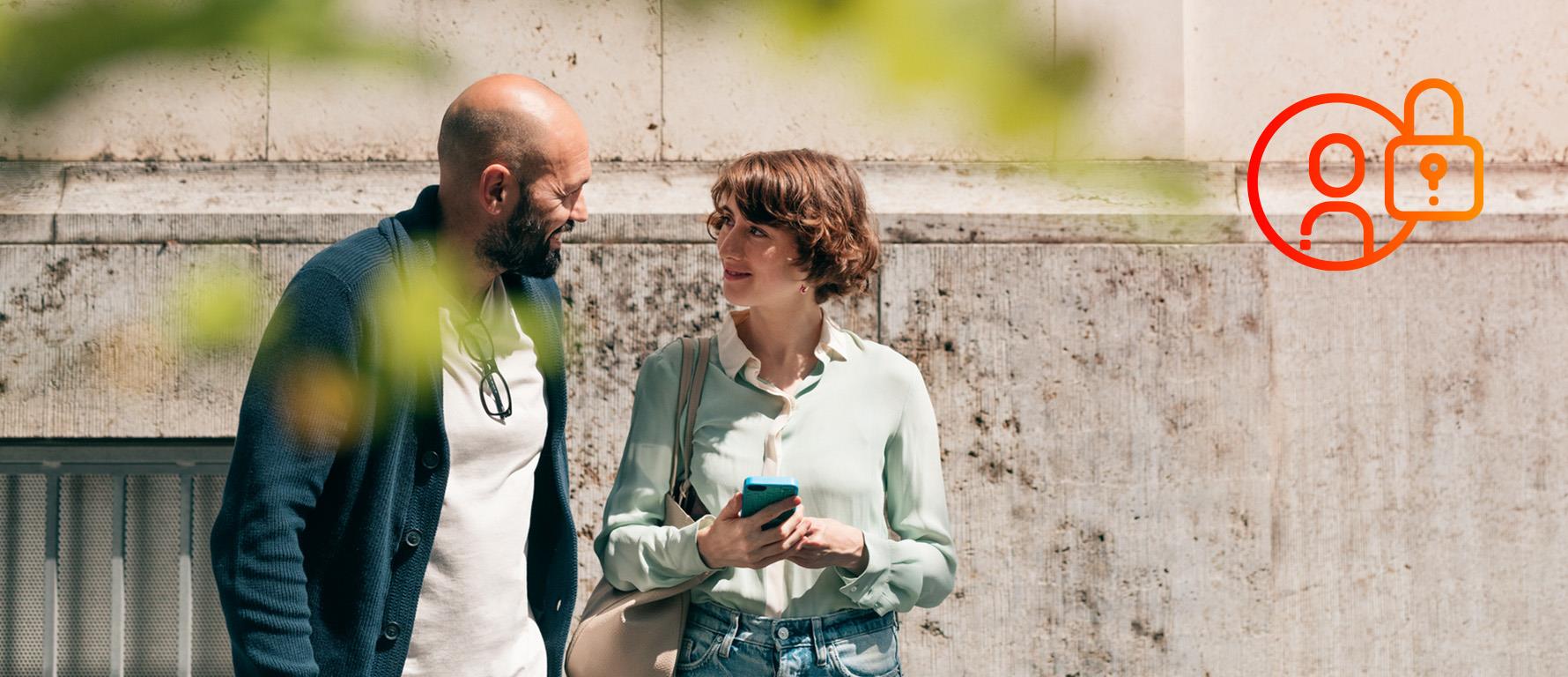 We ensure that our customers can use their mobile phones however they want, anytime and anywhere.
QUALITY FIRST 
Our customers indicate that reliability and availability are the most important criteria for them to base their choices. Ensuring we provide sufficient capacity and that services are always available remains our focus.
Mobile internet traffic from customers is also increasing substantially every year. In 2022, mobile internet usage on the Vodafone network increased by approximately 31% – partly due to the growth in the number of devices used and partly due to what users do with them. We installed around 300 new transmission masts in the past two years to make that growth possible. Increasing the 'density' of our network in this way means that everyone can continue to rely on a smooth connection. We also invested heavily in stability and reliability, so our customers can use their mobile phones however they want, anytime and anywhere. In 2022, the availability of our mobile network totaled 99.79%.
IOT TAKES FLIGHT
The number of online devices is increasing rapidly, both in people's homes and the business sector, thanks to the game-changing 5G technology that underpins IoT. From inspection drones to wireless lasers and robotic lawnmowers – innovative technology keeps on coming. We are contributing to this enthusiastically at the 5G Hub in Eindhoven and in 5Groningen. For VodafoneZiggo, this development means that our network must remain stable and reliable day and night, which will require continuing investments.
The 5G technology underpinning the Internet of Things is a genuine game changer.
SUSTAINABLE NETWORK 
We are continually cleaning up our network by switching off old systems, servers and platforms, either because they are no longer needed or because newer and more economical systems are taking over their task. This clean-up saves energy consumption, makes our network easier to manage, and makes our services even more stable and reliable, meaning progress for customers and employees.
We are also saving energy by deploying equipment smartly. One of the ways we do that is by using algorithms to determine when the network requires less power, such as at night. For more information about our environmental performance, see the chapter entitled 'Environmentally-friendly working'.